Window Cleaning
What Does Window Cleaning Include?
We offer three types of window cleaning; Commercial, Residential, and Post Construction.
The only thing that seperates these services is the type of building. All services include:
Clean both sides of the glass to a streak free shine.
Clean the window frame.
Clean the window sills.
Clean all interior glass doors and windows.
Clean glass doors and door frames.
Remove paint, silicone, glue, etc. from glass if necessary.
Commercial Window Cleaning
Commercial windows are priced from $2.00 per window.
Exterior windows are generally limited to ground floor only.
Significant discounts available for monthly, by-monthly, quarterly, and multi-complex contracts. Contact me for a bid.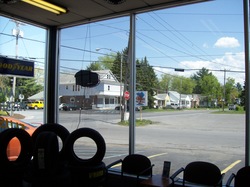 Residential Window Cleaning
Due to the large variety of window types found in residential homes it is dificult to price jobs without first seeing the windows or discussing them with the customer.
Window cleaning starts at $3.00 per window (Price offered with complete residential cleaning package)
For window cleaning service only, most homes average $5.00 per window.
Post Construction Window Cleaning
Post Construction includes both residential and commercial buildings.
Standard access windows are $4.00 per window.
Windows above 8' and below 15' are $8.00 per window
The above prices are for window cleaning service only. Window Cleaning is often included in complete post construction cleaning service at little or no additional cost.